Ready for Real Results… Real Fast?
Get a Metabolic Optimization Coach
and Radically Transform Your Life in Just 90 Days
STUCK? We've got you.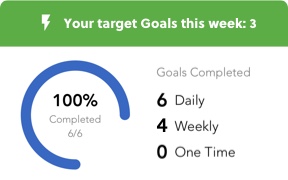 Your Coach will combine our proven process with YOUR body's strengths and unique challenges, while customizing to your preferences. And guess what?
Your uniqueness is the key to getting unstuck.
We'll show you how!
ALONE? We're here for you.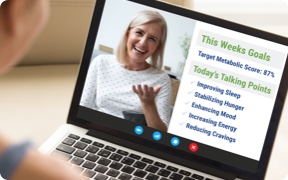 Your personal Coach will give you clear directions… support and encourage you… and hold you accountable.
No more confusion or information overload…
And, you won't have to rely on self-discipline or your own willpower to get results.
FRUSTRATED? We'll get you results.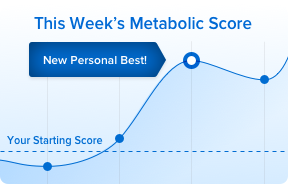 No matter what you're facing, we've seen it all.
We'll help you leverage your unique metabolism, so you can sculpt your body, clear your mind and skyrocket your energy in just 90 days.
(That's how you work SMARTER, not harder!)
Here's How it Works
Your Perfect Metabolic Lifestyle is Built FOR You, BY You…
With a Little Help from Your New Best Friend
Other "weight loss" programs are one-size-fits-all. But Metabolic Optimization is 100% about YOU — your body, your goals, your values, and your preferences.
And that's why it works.
Think of it like building your dream house. Your Coach is your contractor, guiding you every step of the way — and doing most of the work for you. There's just 4 steps to it…
Step 1

Learn the basic "laws" of metabolism.

These laws are like the foundation and framing of your metabolic house… and they're pretty much the same for everyone. This is where you'll learn to "speak metabolism." (Don't worry, there's no hard science! Our Metabolism 101 crash course is easy to understand.)

Step 2

Discover your personal metabolic blueprint.

Your blueprint reveals the challenges and strengths that make your metabolism unique. You'll find out why you're so hungry… or why it's hard to burn off belly fat.

And, even better, it reveals the secret spots where you can LEVERAGE your metabolism. That's how you harness the biological power of your hormones, so you can get faster, easier results.

Step 3

Add your goals & preferences to build a metabolic lifestyle you LOVE.

This is like picking a color palette, the perfect cabinets, or whether you prefer hardwood or carpet.

Your metabolic lifestyle starts with your blueprint, then adds in your goals, sensitivities, values and preferences. From there, you'll know exactly how to eat, exercise, and enjoy self-care routines that optimize your hormones.

Step 4

Go beyond diet and exercise to make permanent change.

Diet and exercise are critical. But they're only HALF the solution…

You're a whole person… and your stress, lifestyle, environment, and mindset ALL impact your metabolism, too.
That's why your Coach will help you clear the "head trash" of negative self-talk and old stories… while loving you and supporting you so thoroughly, you'll actually change the way you see yourself.
It's a full mind-body upgrade. And that is why our clients experience such radical transformations so quickly — with results they enjoy permanently.
This holistic customization process is the BEST way
we know to help you optimize your hormones,
so you can get results faster, with less effort…
and keep getting better results for life.

Start Feeling Better
By This Time Next Week
If you're ready to FINALLY feel lighter, stronger and more energetic… just tell us you're ready.
Remember: your body wants to heal… to be fit, light and happy. You just have to learn how to listen to it… give it what it's asking for… and then get out of your own way.
If you can make your body your #1 priority for just 90 days, we'll guide you every step of the way.
Are You Ready? It's easy to get started today...
Answer 5 Quick Questions
Brief survey ensures you qualify for the program.
Takes less than 10 minutes.
Free to apply.
No obligation to continue.
Phone Interview with Admissions Advisor
Learn how the program works…
Get all your questions answered…
Get paired up with your Coach…
Then decide if you want to move forward.
Go!
Congrats, you're in!
Meet your Coach…
Get access to your educational suite…
Start feeling better in the first week!
Apply Here:
Your information is secure. Your answers will only be reviewed by your Admissions Advisor and future Coach.
It's Free to apply. An Admissions Advisor will review your application, call you to discuss program details and pricing.
First, let's start with the basics:
Learn More
Frequently Asked Questions About the Metabolic Optimization Coaching Program
How do I know if I need a Coach — or if the program is right for me?

The quick answer is, your Admissions Advisor will help you figure it out.
In the meantime, here are a few more helpful criteria:

You want to learn how your body really works, so that you can design a metabolic lifestyle that works for you, for life.

You feel "lost" or "stuck" — and clear directions from an expert would help you achieve your goals. Your Coach will help you interpret your biofeedback, so you know exactly how to tweak your exercise, eating, movement, stress-reduction and other hormonal "toggles" to get the results you want.

You don't have a strong support network or people to encourage you. It's hard enough making healthy, permanent change in your own life… but even harder when your friends and family don't know how to support you. Your Coach is always on your side with the friendly support & authentic encouragement you need to succeed.

You struggle with self-discipline, willpower, or you keep breaking promises to yourself. It's NOT your fault. It's extremely difficult to hold yourself accountable to anything, especially something as difficult as changing your diet or starting an exercise program. But when you know someone is expecting you to do something, you're FAR more likely to do it. Your Coach will help you stick to your goals, with far less discipline and willpower than if you were all alone. We won't let you weasel out of making real change!

How is this different than Metabolic Renewal, Metabolic Prime, Metabolic Aftershock, or The Metabolic Factor?

If you've already begun one of the Metabolic Living fitness programs, great! Your Coach is the perfect partner for your journey. Like a therapist or financial advisor, they'll help you succeed in your program faster. They'll be there to guide you around potential pitfalls, hold you accountable to your goals, and answer any of your questions along the way, so you'll never be stuck for long.

They'll also help you interpret all the biofeedback signals your metabolism is sending. Then, they'll give you clear directions to make effective tweaks to your new lifestyle.

For example, you might find you're suddenly hungry all the time. Hunger is a key biofeedback signal. Your Coach will evaluate what you're doing… and might suggest eating more protein at every meal. (Protein is highly satiating and one of THE first knobs to pull when dealing with hunger.)

How will a Metabolic Optimization Coach help me get results faster?

This is a 12 week, white-glove, high-touch service that combines a simple, clinically-proven metabolism-optimizing framework with personal support and accountability.

You'll get access to our step-by-step Metabolism 101 crash course and your very own personal Coach to guide you through.

Then, your Metabolic Optimization Coach will meet with you weekly to answer questions, support you, and help hold you accountable to your goals.

Your Coach will also help you apply everything you're learning to YOUR metabolism, so you can interpret the signals your metabolism is giving you. That means you'll know how to crush cravings and excess hunger, get deeper sleep, stabilize your mood, skyrocket your energy, and so much more.

In other words, by the end of your 90 days, you'll have designed the perfect metabolic lifestyle that gets you results for life.

How can I use this training to get results for life — beyond the 90 days?

By the end of the process, you'll know how YOU work.

You can confidently experiment with new eating or exercise styles. And no matter what changes in your life, you'll know EXACTLY what to do to stay on track and keep getting better results.

For example, maybe you want to train for a marathon… or you want to go on vacation and do nothing. Or menopause strikes… or heaven forbid, you get sick. You'll always know exactly what to do to maintain a strong, fit body… high energy… and a clear mind.

Why are the Metabolic Living Coaches the best in the world?

It might sound like a brag, but it's not! Our Coaches are dedicated lifelong health professionals — including naturopathic doctors, dietitians, gym owners and personal trainers.

On top of their own professional experience, they've trained intensively with Dr. Jade Teta personally. They downloaded the best of his 30 years of biomedical and naturopathic research, including his proprietary techniques and clinical-grade frameworks he proved to work with tens of thousands of clients.

In short, your Coach is highly-trained to help YOU cut through the noise of an Internet full of opinions. They'll teach you techniques that have REALLY worked for other people — then customize them to YOU — so you can optimize your metabolism and get results fast.

Why are spots in the Coaching program so limited?

We want you to get ALL the personal attention & support you need. That's why we only allow our Coaches to take a handful of clients per 12 week session.

This isn't a Facebook group with thousands of people, where you have to struggle to be heard. Your Coach will be there for you whenever you need them.

Why is there an application process?

The Coaching Program is a white-glove, personal service with high-end Coaches and extremely limited space. So, to make sure we don't waste time, we want to make sure we can help you — and that you're the perfect fit for us.

The Metabolic Optimization Coaching Program is only open to those who are seriously committed to getting their best body, highest energy, and clearest mind as quickly as possible. So, we use a brief application to gently filter out those who aren't as serious and who might take away from your experience.

How is my information kept secure & private?

We take your privacy seriously. Your personal information and survey answers will only be seen by your future Coach and our Admissions Advisors, who are specially trained to identify people who will (and won't) be best helped by the program.